One Cup
This mug is beyond giant, this mug is an absolute BEHEMOTH! this mug is so big that it will hold nearly 2 litres of coffee! (1800ml to be exact) so that's 6 cups of regular coffee!
This huge mug is hilarious as well because on the front is the message "I've cut back to just one cup of coffee a day" with this mug you honestly can have your cake and eat it when it comes to new years resolutions.
A days worth of coffee in one hit!
The mug is ceramic and is too big to go in the dishwasher so you will have to hand wash (unless you have a very big dishwasher)
Click Here For One Cup Giant Mug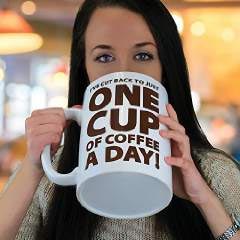 F**K Yeah
This is a very positive Mug that will keep you motivated on the most miserable of days.
It's a Giant Mug Of F**K Yeah which is a very American phrase and is usually shouted when something goes your way.
For instance
You win the lottery
You make that sale
You get that date
F**k Yeah can be shouted in many different situations and this mug will remind you of those happy F**k yeah moments.
This mug has a giant 600ml capacity is ceramic and is microwave and dishwasher safe. Now, are you going to buy this mug?
FUCK YEAH!
Click Here For F**K Yeah Giant Mug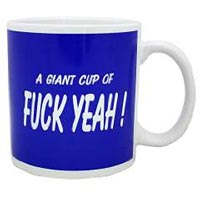 Who Knows?
Anyone who has ever worked alongside other people has worked with that annoying colleague who denies knowing anything when asked anything and it's even more annoying when they come out with
"who the f**k knows"
Have you seen Dave?
"who the f**k knows."
Did that invoice get paid?
"who the f**k knows."
I would bang sally the secretary would you?
"who the f**k knows."
Do you know anything you ignorant ****?
"who the f**k knows."
Right, I have a gun to your head if you say who the f**k knows I'm going to blow your brains out!
"who the f**k knows."
BANG!
Your annoying colleague's brains go flying across the office and you have just got yourself a life sentence but there is a better way to solve your colleague's annoying habit give him or her this giant mug emblazoned with "who the f**k knows" this mug will remind them on a daily basis of how annoying they are.
The mug has a giant 600ml+ capacity and is microwave and dishwasher safe
Click Here For A Giant Mug Of Who The F**K Knows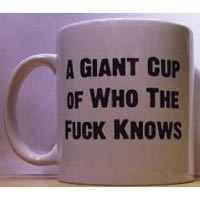 Arsenal Fan?
A great gift for any Tea loving Arsenal fan you might know, this mug is an official piece of Arsenal merchandise.
The mug features "Arsenal" around the body with the Arsenal logo.
This mug will hold an enormous amount of hot drink, is gift boxed, dishwasher and microwave safe.
Click Here For Arsenal Giant Mug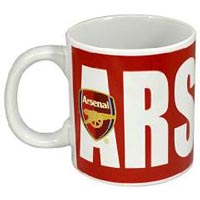 Assassins Creed
Assassins Creed has dominated the games market for the past decade with 9 releases in the main series and 11 other games the action-packed fictional history sure is popular with hundreds of thousands of fans worldwide.
If you're an Assassins Creed fan or know anyone who is then this mug is for you. The mug features a print taken from Assassins Creed IV of Edward walking on the shore away from the ship.
Of course, the mug has a giant capacity and is microwave and dishwasher safe, although please dishwasher at lower temperatures to avoid fading.
Click Here For Assassins Creed Giant Mug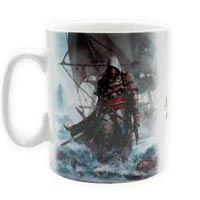 Bad Decisions Good Stories
Bad decisions do make good stories like the time a friend went out on a mission to get absolutely plastered and to go home with one of the lovely ladies on offer at the local nightclub.
What happened?
He did get plastered…
He did go home with one of the lovely ladies from the local nightclub…
He woke up next to this lovely lady…
And another man…
They were all naked…
And my friend had a very very sore bottom…
He has never got over this incident to this very day, his decision to go out and get plastered and cop off with one of the local ladies was a bad one, but it did, however, make a very good story.
So I gave him this giant mug
The mug is a pleasant green with the words "bad decisions make good stories."
Has a 625ml capacity
And is microwave and dishwasher safe
Know anyone who made a bad decision and made a good story?
Click Here For Bad Decisions Make Good Stories Mug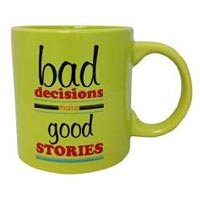 Batman
Na Na Na Na Na Na Na Na Na Na Na Na Na Na Batman!
if you're old enough to remember that song then you will remember the retro Batman Cartoon from DC comics.
Here is an officially licensed DC Comics Giant Batman mug with a retro Batman logo.This mug is huge with a 750ml capacity and is microwave and dishwasher safe and comes in a cool comic gift box.
Click Here For Batman Giant Mug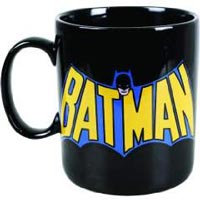 Big Boss
"Who's afraid of the big bad boss, the big bad boss the big bad boss
who's afraid of the big bad boss tra la la la la"
"A short while ago there were 3 employees, useless lazy employees for the big bad boss to give a bollocking"
"Number 1 Was gay and he always threw the bosses orders away"
"Number 2 Was fond of tricks and he filled his bosses printer up with bricks"
"Number 3 Was a naughty secretary with big jugs and she was very fond of giant mugs"
"So she got the Boss this Big Boss Mug"
"The Boss was so happy he gave her a hug"
Here is a 625ml capacity Giant Mug bearing the words "Big Boss" it's microwave and dishwasher safe and will make your boss very happy.
Click Here For Big Boss Mug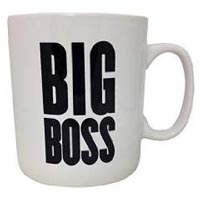 Cadburys Retro Wrappers
Get some chocolate nostalgia in your life with this Giant Mug featuring many a classic Cadburys chocolate wrappers from the good old days.
this mug has a blue stripe running around the top and bottom with retro images of the following chocolate bars.
Picnic
Flake
Curlywurly
Dairy Milk
Double Decker
Bar 6
Caramel
Amazin
Chocolate Cream
Dipped Flake
Chocolate Buttons
Click Here For Cadburys Retro Wrappers Giant Mug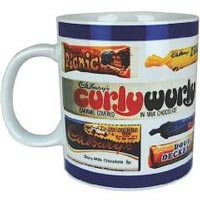 Dr Who Dalek
This mug was released for the much celebrated 50th anniversary of the hit TV sci-fi drama Dr Who.
The mug has a giant capacity and features Daleks on a grey background.
Daleks have been DR who's enemy since 1963 they are so well known that the word 'Dalek' is in the English dictionary
"a member of a race of hostile alien machine-organisms which appeared in the BBC television science fiction series Doctor Who from 1963″
Microwave and dishwasher safe
Click Here For Dr Who Dalek Giant Mug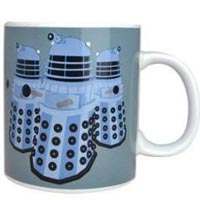 Tardis
The Tardis was created by the Timelords as a means of travelling through time and space, The Tardis looks like a police phone box on the outside but inside are lots of different rooms including the famous console room.
This official Dr Who Giant mug is decorated with the Tardis flying through deep space on the outside and has a hidden Tardis on the inside!
How is this possible?
A 3D Tardis has been created in the base of the mug the more you drink, the more Tardis you see.
A must for any Dr Who fan, please don't dishwash
Click Here For Dr Who Giant Tardis Mug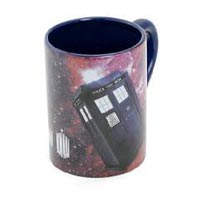 Chalk Board
Here we have another Giant Mug but this one is unique as the outside has been covered in blackboard which means you can write anything you want on the mug with chalk.
You can play noughts and crosses or hangman while you sip your favourite brew
You can write your drink order on the mug, for example, tea with two sugars.
You can write messages to those sitting around you
You can write a short story
You can write anything you want really
A giant capacity, supplied with chalk and gift boxed, please handwash
Click Here For Giant Chalk Board Mug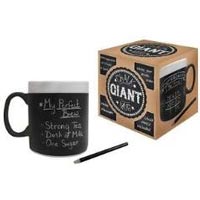 Incredible Hulk
Bruce Banner was a 129-pound weakling who got blasted by gamma radiation and after that whenever he got stressed he turned into the monstrous 1040 pound destruction machine that is the Incredible Hulk.
This mug was a standard 250ml white mug but got blasted by gamma radiation and is now a monstrous 600ml capacity featuring a muscular green body and arm for the handle.
This mug is just like the Incredible Hulk, it holds an Incredible amount of tea and is Incredible to drink from.
Click Here For Giant Incredible Hulk Giant Mug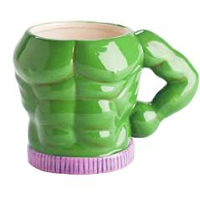 Giant Mug Of Shut The F**K Up
We all know someone who can do with a giant mug of shut the f**k up so here's one which can also be personalised to include the name of someone special.
Great for
A friend who has to much to say for themselves
A colleague who has to much to say for themselves
A relative who has to much to say for themselves
A wife or husband who has to much to say for themselves
Give them this mug and they will get the message
You're probably are not aware but we have just gone through the Unicorn era a term used to describe a period of time where lots of money was chucked at silicon valley startups by investors betting on Unicorns.
What has this to do with mugs? absolutely nothing! you are not a silicon valley startup, investor or unicorn but you do want a giant mug and this unicorn mug is huge! with a 900ml capacity!
The Unicorn mug features a mythical gallant beast with a horn protruding from his forehead with the backdrop of a rainbow and the words "magic coffee power!"
A prime example of WTF? but a huge mug none the less that will hold three loads of Tea or Coffee
Click Here For A Giant Unicorn Mug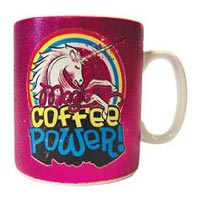 Ginger Fox
This Giant Mug is colourful but a bit of a funny one, on the front are the words "my mug is considerably BIGGER than yours" (which it will be this mug is huge) then on the other sides are summaries of what this bad boy can actually hold.
"This mug can hold 13,556,181,431 grains of sand" (which equals 3 sandcastles and is very approximately)
"132 Pencils"
"638 Baked Beans"
"2307 of these nuts"
"And 2263 of these nuts"
"45 Gumballs"
"66 Teabags"
"119 spoonfuls of instant coffee"
"646-pound coins"
And most important of all one and a half pints of a liquid of your choice!
Which is around 850ml, microwave and dishwasher safe
Click Here For Ginger Fox Giant Mug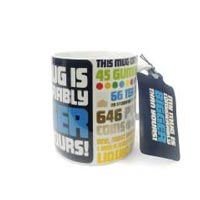 Goonies
If you're old enough to remember the days before the Internet then you're old enough to remember the classic comedy adventure The Goonies.
A group of kids from Oregan discover an old treasure map and go underground in search of a legendary pirates treasure with the criminal Fratelli family on their tails who also want the fortune at the end of the treasure map.
This Giant Mug has been dedicated to Lotney "Sloth" Fratelli the retarded, deformed but lovable hero of the hit film.
The mug is decorated with the "Super Sloth" inside and outside with a picture of Sloth on the front with a retro dot background.
Officially licensed merchandise, a must have for any Goonies fan.
Click Here For Goonies Giant Mug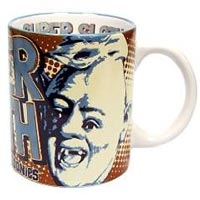 Hangover
The morning after 8 pints of Stella and 6 Jack Daniels and Cokes your head is banging your groaning and boy are you dehydrated, you need a cup of tea or ten to start you on the long road to feeling normal again.
So why not make yourself 3 cups of tea in one mug with the Giant hangover mug? This mug is huge just drop in 3 tea bags or 3 spoonfuls of coffee add water and milk and away you go.
The mug has a lovely picture of empty bottles and glasses with "hangover mug" in scribbled style writing on the base of the mug are the words "do not disturb" which will let everyone in the vicinity know to leave you well alone.
The mug is black with white images and writing, microwave and dishwasher safe also gift boxed, a great gift for a pisshead!
See this mug? What does it say? It says "I am the boss!
Notice how this mug is more significant than yours?
It's because I am the boss
I am bigger and better than you in many ways
I am higher up in the company than you
I earn more money than you
I have more respect than you
My car is bigger than your car
My house is bigger than your house
My bank balance is bigger than your bank balance
My mug is bigger than your mug
I am the Boss
And don't ever forget it
Click Here For I Am The Boss Giant Mug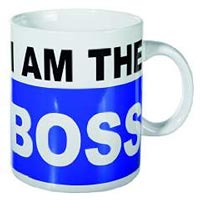 IM THE BOSS
NO QUESTIONS
NO ARGUMENTS
WE'LL JUST DO THINGS MY WAY!
Everyone has been in this situation at one time or another, and for those of you who currently have to answer to the boss then this is what you must get them for the next secret Santa.
This Giant mug comes with a matching keyring, so your Boss gets two gifts in 1
He or She will be so impressed they will give you a promotion and pay rise!
Dishwasher and Microwave safe a good mug for the workplace
Ever since Ray Winstone in the 1979 film "Scum" took control of the borstal by giving his opponents a good hiding the phrase "who's the daddy" has been used in the event of many victories no matter how big or small.
"The Daddy" is, of course, the top dog, are you the top dog? if you're not at the top of the food chain at home, at work or in your group then find another mug.
This mug is for true champions ones who can truly call themselves the "Daddy."
Can you?
This mug has a giant capacity of 900ml (only a winner can drink 900ml of tea in one sitting) with a picture of a fist and the phrase "I'M THE DADDY"
"Bacon pancakes"
"Makin bacon pancakes"
"Bacon pancakes"
This giant mug features a character that looks something between a dog and a minion making bacon pancakes with a brown background, who knows this mug might even inspire you to make bacon pancakes.
Bacon pancakes are simple just make pancakes and put bacon in them then make yourself a nice double serving of tea with this massive 568ml mug.
Handwash only, please
Click Here For Making Bacon Pancakes Giant Mug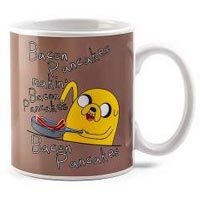 Nothing But Trouble
The phrase Nothing But Trouble is a popular one it has been used for a film title, where Dan Aykroyd played a 106 year and judge and the film was nothing but trouble. it was a complete flop and lost a lot of money.
The phrase has also been used for a song by Lil Wayne and Charlie Puth, a book by Rachel Gibson and now the phrase has been slapped on a giant mug.
The Mug has 'Nothing But Trouble' written on the front in yellow, green and orange writing the mug is ceramic and features a giant 625ml capacity.
Dishwasher and Microwave Safe
Click Here For Nothing But Trouble Giant Mug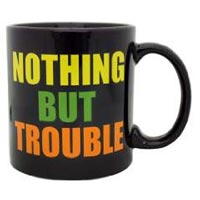 Big Grouch
Oscar The Grouch was a grumpy furry character that lived in a bin he had an obsession with hoarding useless items and he was green, remember sesame street? this mug is officially licensed from the hit TV show.
The mug has a green background (just like Oscar) and features a photo of Oscar in his bin and "I'm A Big Grouch" on the other side of the mug is the Sesame Street Street sign tastefully done in white.
Ideal for any big grouches you might know or for yourself if you're a grump
Microwave and dishwasher safe
Click Here For Prices & Availability